Sun Tunnels
Sun tunnels provide our customers with a cost-effective way to introduce warm, natural lighting to their homes without having to deal with the higher costs that customer sunlights usually come with.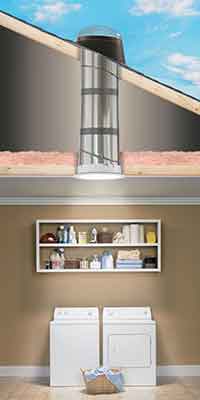 The beauty of a sun tunnel installation is that it can be done in just a few hours, making them one of the fastest and most inexpensive ways to transform your home with natural lighting.
The Benefits Of Sun Tunnels
While cost-effectiveness and ease of installation are the main benefits that attract people to sun tunnels, there are a few other benefits that make sun tunnels a great, time-efficient choice.
Can be bent around attic obstructions
Brighter white light
Available for short and long runs
Why Us?
Our team has many years of experience when it comes to installing skylights, sun tunnel installation services, and solar heating solutions. Our work maintains exceptional standards and the highest quality. All our workmanship comes with a 5-year warranty, as well as the product warranty offered by the manufacturer. Our team boasts a 5-star Skylight Specialist rating from Velux, the highest rating an installer can receive from the manufacturer.
We work closely with our customers to ensure each project is finished to their standards and provides them with the highest level of satisfaction. We offer a wide range of prefabricated and custom-built skylights, so you can choose exactly what you want for your home.
Contact Us
Have a skylight idea in mind? Or are you looking to create something a little more custom for your home? Get in touch with us today for your skylight and solar, and we'll help you create the perfect solution for your home.
Contact us today at (303) 674-7147, or email us at designskylights@yahoo.com, and we'll get back to you.